Side Menu:
Chief Purser Hugh McElroy
Chief Purser Hugh McElroy
- 1912 Titanic
After 13 years of service, it is perhaps not surprising that 37 year old McElroy was asked to join the White Star Line's latest ship as Chief Purser on its maiden voyage - Titanic - as he was part of the same team that had been operating the Olympic for the last year, notably with Smith in command, Chief Steward Latimer, Dr O'Loughlin and later Chief Officer Henry Wilde.
Perhaps surprising to some, Hugh was arguably the most important person aboard Titanic - or at least of even importance with Captain Smith:
Together with the captain, a ship's purser probably had the most important position aboard. He had to know the whole ship and its crew and have an answer for every question, or at least know who might be able to provide an answer. He discussed the menu plan daily with the cooks and arranged the list of requirements for the storekeepers… He was responsible for ensuring that all passengers had valid tickets, was in charge of all purchases for a trip, paid the wages to the crew and was the contact point for all kinds of requests." ("Guide to the Crew of Titanic: The Structure of Working Aboard the Legendary Liner" by Günter Bäbler)
The calibre of men required was emphasised when the minutes of a special meeting were recently released at auction. Entitled a 'Special Meeting April 22nd 1912 (seven days after the Titanic disaster) it was attended by all the senior Directors of the White Star Line in London and read in part:
Having fitted out this magnificent vessel, the Titanic, we proceeded to man her with all that was best in the White Star organisation, and that, I believe, without boasting, means everything in the way of skill, manhood and esprit de corps. Wherever a man had distinguished himself in the service by reason of ability and devotion to duty, he was earmarked at once on our records to go to the Olympic or Titanic if it were possible to spare him from his existing position, with the result, that from Captain Smith, Chief Engineer Bell, Dr. O'Loughlin, Purser McElroy, Chief Steward Latimer, downwards, I can say without fear of contradiction, that a finer set of men never manned a ship. (Henry Aldridge & Son, auction November 14th, 2020 )
Much must have been familiar to McElroy - just as aboard the Olympic, the Purser's Office was located on the C Deck landing of the Grand Staircase. He had his own unmarked cabin next door to C53.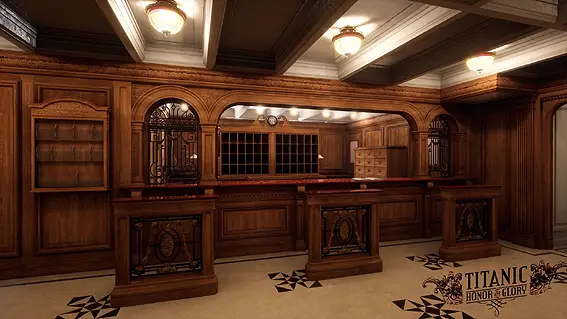 The First Class Purser's Office where he was based consisted of two rooms: the Office itself and the inter-connecting Enquiry Office where the counter and messaging equipment were located. For example when sending Marconigrams, a Clerk would write out the message and send it up to the Marconi Room on the Boat Deck via a pneumatic tube.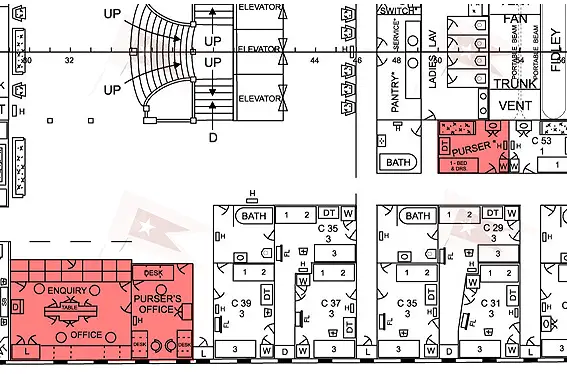 McElroy was one of two pursers aboard Titanic - the other purser was 42 year old Reginald Lomond Barker, who had previously been aboard the Majestic. Barker was officially listed as "Second Purser, First Class." Both McElroy and Barker were known to dine with passengers.
Although designated as the "Second Purser, First Class." it seems that Barker, as an "Assistant Purser" was primarily in charge of Second Class, working from the Assistant Purser's Office located on E deck, opposite the aft Second Class Staircase. Second class passenger Lawrence Beesely dined at Barker's table in second class and asked Barker about arranging a Sunday service in the dining saloon.
According to Captain Bartlett interviewed during the British Inquiry there was no purser "specially appointed for the third class; there is one to the first and one to the second, and there is an assistant to each. Those pursers attend to the whole of the passenger department of the ship." (British Inquiry)
McElroy and Barker had several assistants (Purser's Clerks) to handle much of the routine work. including:
Ernest Waldron King
John Reginald Rice
Austin Aloysius Ashcroft
and Donald Samuel Campbell
Pre-departure letters and gifts
Just before joining Titanic he sent two postcards from the Royal Southampton Yacht Club to two priest friends at the Bodmin Priory . One sent to Phillip Corr dated 6 April 1912 read as follows:
"Many thanks for your letter and good wishes which I reciprocate, the "Titanic" is in many ways an improved Olympic and will I trust be a success, I am sorry I could not get down to Swanage this time but I was tied to Southampton and the train service too erratic to take chances, all kind of messages to you both". ( The Life and Times of Hugh Walter McElroy, Chief Purser of R.M.S. Titanic, by Frank McElroy).
The other card sent from the Royal Southampton Yacht Club was to Cutherbert McAdam at Bodmin Priory, also dated 6 April 1912 and with a similar message.
On the 7th, a Sunday, Hugh and Barbara attended Holy Communion where they met Mr Octavio Biet "whom Hugh found to be very trustworthy, he was a business man from Valletta in Malta.. coincidentally neither Hugh nor Mr Octavio Biet knew that they both had attended the same school 'Cotton Hall Ecclesiastical College' "" (The Life and Times of Hugh Walter McElroy, Chief Purser of R.M.S. Titanic, by Frank McElroy).
A day before sailing, on the 9th, Hugh and his wife Barbara sent flowers in the Danish national colors of red and white to Miss Adeline Genée, a world famous dancer. The flowers were to be delivered backstage as she was scheduled to perform at a special "Flying Matinee" in Southampton at the Hippodrome Theatre on Thursday 11th of April 1912. Hugh and Barbara were friends of Miss Genée, after Hugh made her acquaintance aboard the RMS Majestic en route to America. Of course, Hugh would be at sea aboard the Titanic on the 11th, but he had an idea:
"Barbara did go and see Mdlle Adline Genee in her special performance. Hugh had suggested to Mr Octavio Biet, if he would possibly escort Barbara to attend the special performance at the Hippodrome Theatre, in Southampton as Mdlle Adeline Genee had sent Hugh two complimentary tickets. Mr Octavio Biet asked Barbara if that would be in order, and she accepted his invitation, with Hugh's blessing." ( The Life and Times of Hugh Walter McElroy, Chief Purser of R.M.S. Titanic, by Frank McElroy).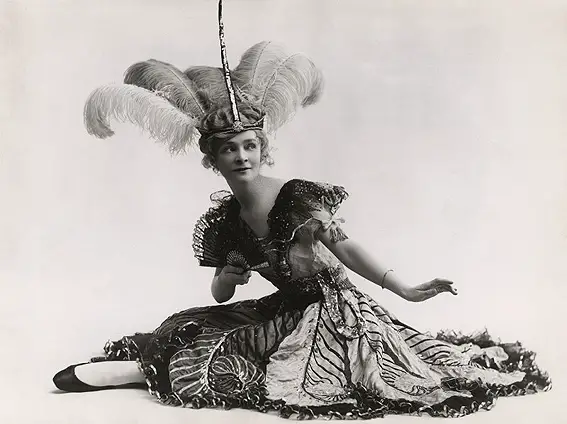 10th of April - Sailing Day
Hugh McElroy signed on aboard Titanic the day before sailing - the 9th of April 1912, with a monthly wage of £20.
"Hugh had then taken to canary minding, the canary sailed on the Titanic and survived, it was owned by a Mr Meanwell who lived in France and wanted to get his prize winning precious canary to Cherbourg from England. He asked the Chief Purser to carry it on the Titanic, Hugh kept the bird in his office, (the canary disembarked when the Titanic arrived in Cherbourg). (The Life and Times of Hugh Walter McElroy, Chief Purser of R.M.S. Titanic, by Frank McElroy)
Titanic was to depart Southampton at noon, by which time a large number of passengers had to embark and find their way around the new ship. Undoubtedly this was a busy time for McElroy, giving directions, putting valuables in the safe and assisting with accommodation.
It seems the White Star Line urged all passengers travelling with coins, currency, securities, and jewellery to deposit them in the ship's safe in the Purser's office. In return they were given a claim receipt for their possessions. McElroy was also in charge of ensuring that each passenger was allocated the correct first class staterooms and cabins. For example, First Class steward William Faulkner, previously of the Celtic, was supplied with a First Class Passenger List with the "staterooms of those of whom he had responsibility had been ticked with a pencil mark by Chief Purser Hugh McElroy." This of course sometimes led to specific requests:
Purser Hugh McElroy suddenly appeared at Faulkner's side. He was accompanied by a passenger who wanted a cabin other than that allocated. Mr Howard B. Case, an oil magnate with interest on both sides of the Atlantic, had been given accommodation down on E deck (E66), he was none too pleased. He had specifically asked for C deck (C11) and wanted to switch cabins, even if it meant sacrificing space, the Purser had found one more cabin which might conform to Mr Cases liking, Hugh handed the Steward his note of authorization for the changeover and asked him to attend to the matter personally, Faulkner read the note, pocketed it and carried out the instruction, which lead to another happy passenger. (The Life and Times of Hugh Walter McElroy, Chief Purser of R.M.S. Titanic, by Frank McElroy).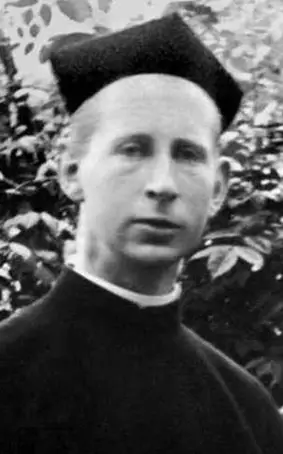 One visitor to the purser's office was 32 year old Father Francis Patrick Mary Browne, who had received a 2 day first class ticket as a gift from an uncle. He boarded Titanic on the morning of the 10th and inspected his stateroom A-37. During his short time aboard Titanic, Browne went on to extensively photograph the ship which according to biographer Frank McElroy was due to assistance from McElroy - and a likely kinship due to McElroy's own church experiences:
Father Browne visited the Pursers Office to see the Chief Purser McElroy and to give him a letter of introduction, this served as a passport to Father Browne, which made way to the genial friendship between Purser McElroy and Father Browne, the author of this letter was a old friend of the Chief Purser, The Most Rev Dr Robert Browne, Bishop of Cloyne, Queenstown (Cobh). Bishop Browne who was Father Francis Browne's uncle and had just won a libel case against the Dundee Courier for £200. The Bishop did not need the money, so he paid for the two day passage on the R.M.S. Titanic and also for a brand new camera for his nephew, Father Browne certainly was in debt to R.M.S. Titanic's Purser, Hugh McElroy, because as purser he had given Father Browne the run of the ship, purser's are responsible for all accommodations on shipboard, and Hugh could have thrown open any room he wished, within reason, we know that Father Browne travelled throughout the ship, (The Life and Times of Hugh Walter McElroy, Chief Purser of R.M.S. Titanic, by Frank McElroy).
Father Brown himself wrote of Purser McElroy and describing a "genial friendship" that he formed thanks to a letter of introduction:
Once on board a visit to the Purser's office, where a letter of introduction served as a passport to the genial friendship of Mr McElroy, sent us looking for Cabin A 37, which being translated meant Cabin 37 on Deck A ("At Sea on the Titanic", By F M Browne SJ, From The Belvederian, 1912, and reprinted in "Father Browne's Titanic Album", By E. E. O'Donnel, 1997)
Others were not happy with their accommodation and it was McElroy who had to deal with it. Mrs. Henry B. Cassebeer recalled visiting the Purser soon after boarding to ask for an upgrade from Second Class, which McElroy was able to fulfill, transfering her to a First-Class stateroom. ("The Night Lives On", Walter Lord)
11th of April
After a short stopover in Cherbourg to collect more passengers, the Titanic's final port of call was Queenstown, Ireland, arriving at 11.30am on Thursday 11 April at Cork Harbour.
As was the custom, there was a daily inspection of the ship by Captain Smith, Purser McElory and some of the deck officers at 10.30am to ensure all was "ship shape" - Titanic likely also felt like the nine mile distance McElroy computed for the Olympic.
It was after such a tour when a photograph of McElroy was taken that would become iconic. In fact, it was the occasion when the last known photograph to be taken of Captain Smith is of him standing on the starboard side of the Officer's Quarters alongside Chief Purser McElroy. Taken by photographer Thomas Barker, the window to the left of McElroy is Fouth Officer Boxhall's cabin, while the next four windows belong to the Captain's rooms.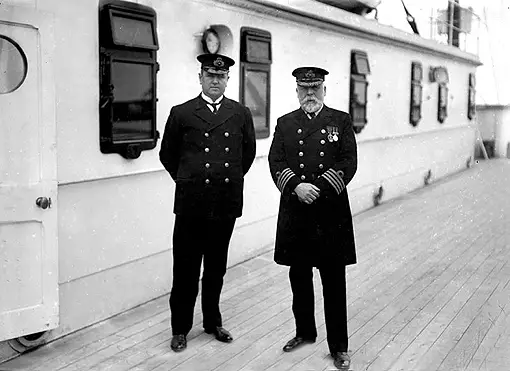 According to a story by Frank McElroy, the Purser was not happy about having his photograph taken:
Captain E. J. Smith along with Chief Purser Hugh McElroy, were assisting one reporter Mr Thomas Baker a reporter / photographer from the Cork Examiner on the Officers Promenade deck after he had made his notes he asked if he could take a photo, and had them both pose outside Captain Smith's Quarters on the Officers Promenade, on the starboard side, Hugh had some reservations about having his photo taken aboard the R.M.S. Titanic he thought it had sinister connotations, after Thomas Baker had finished taking his photo, Father Browne asked if possible, could take a similar photo of Hugh and Captain Smith, at this point Hugh was more relaxed and it is borne in the photo Father Brown took, which is now possibly more famous than the photo taken by Mr Thomas Baker. (The Life and Times of Hugh Walter McElroy, Chief Purser of R.M.S. Titanic, by Frank McElroy).
Interestingly, The Cork Examiner, when it published this photograph on the 15th of April 1912, noted the following:
On the right of the picture is Commander E. J. Smith, R.D., R.N.R., to whose skill and watchfulness is committed the care of the great ship and her freight of close on four thousand souls. He is one of the heads of his profession, and he has a long and extensive connection with the White Star Line. The Captain may be the best, but unless the Purser knows everybody and everything, and combines the perfection of urbanity, tact, prompt appreciation of circumstances – in fact, is the best of fellows – his passenger list does not fill all the time, but on any ship on which Chief Purser McElroy has filled that position, the booking has always been complete well in advance of the sailings.
There was also a poignant goodbye when the photographer Francis Browne departed the ship and happened to see McElroy again and offered to send copies of his photographs to them - and that McElroy later would "calmly facing death as he strove to reassure the terror-stricken, and to render up the jewels given to his keeping":
Then came the tender and the mails and soon the hour of leaving came for me. As I passed down the gangway I met Mr McElroy and Mr Nicholson, Head of the Mail Department on the Titanic. 'Good bye,' I said, 'I will give you copies of my photos when you come again. Pleasant voyage.' And so they went. They never came back, one dying at his post far down in the heart of the ship as he strove to save the more precious portion of his charge, the other calmly facing death as he strove to reassure the terrorstricken, and to render up the jewels given to his keeping." ("At Sea on the Titanic", By F M Browne SJ, From The Belvederian, 1912, and reprinted in "Father Browne's Titanic Album", By E. E. O'Donnel, 1997)
Cabin Changes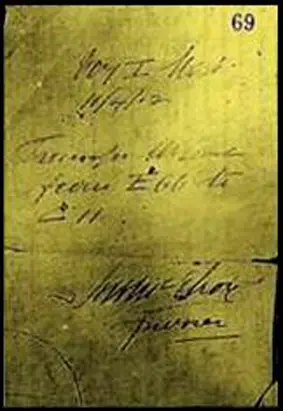 After departing Ireland and beginning the crossing of the North Atlantic towards New York, McElroy was asked by several passengers to make changes to their accommodation. In one particular case, thanks to a note kept by First Class Steward William Faulkner, shows how McElroy played an important role in the accommodation of the passengers.
According to Frank McElroy, "Stewards were given their printed list of names... 'First Class Passenger List, per Royal and US Mail'. The Staterooms of those of whom he had responsibility had been ticked with a pencil mark by Chief Purser Hugh McElroy." However, a First Class passenger by the name of Mr Howard B Case had approached McElroy as he was not happy with being given accommodation on E deck - his cabin was E66 and he had specifically asked for C deck, even if that meant a cabin of a smaller size. McElroy was able to find a cabin on C deck and handed Faulkner a note (with number 69 on it, from Hugh's notebook) which gave authorisation for the change. It is dated "11/4/12" and is signed by McElroy, showing a transfer from E66 to cabin C11. ("The Life and Times of Hugh Walter McElroy", Chief Purser of R.M.S. Titanic, by Frank McElroy).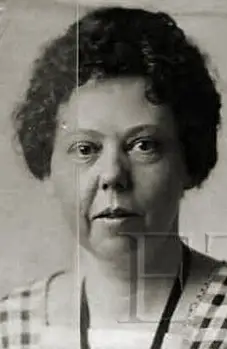 In some cases the situation became quite intense. One of the most infamous was that of Second Class passenger Imanita Shelley, who in her affidavit presented to the United States Inquiry on Day 18 told the story of how McElroy assisted her and her mother:
That her mother, Mrs. Lutie Davis Parrish, of Woodford County, Ky., and herself embarked on the White Star steamship Titanic at Southampton, England, upon the 10th day of April, 1912, having purchased the best second class accommodation sold by said company. That instead of being assigned to the accommodation purchased, were taken to a small cabin many decks down in the ship, which was so small that it could only be called a cell... That the stewardess was sent to the chief purser demanding transfer to accommodation purchased. That he replied he could do nothing until the boat had left Queenstown, Ireland, when he would check up all tickets and find out if there was any mistake.

That after leaving Queenstown Mrs. L. D. Parrish made 11 trips herself to the purser asking for transfer, only to be put off with promises. That at 9 o'clock p. m., no one having come to make them to better quarters, Mrs. Shelley wrote a note to the purser to the effect that she had paid for the best second class accommodation on the ship and had the receipts to prove it; that she was very ill and, owing to that freezing cold of the cabin, was in great danger; that if he, the purser, refused to act she, Mrs. Shelley, would appeal to the captain; that if neither would act she realized she would have to wait until reaching America for redress, but most assuredly would claim damages if she lived to reach her native land.

That the result of this letter was the arrival of four stewards to carry her to the room paid for, who offered apology after apology. That the stewardess, on being asked what the purser had said on reading the note, replied: "He asked first if you were really so very sick, to which I answered there was no doubt about that. Then the purser asked me if there was such a cabin on board the Titanic, where a cabin trunk could not be opened; to which I replied in the affirmative. I also told him that the cabin was entirely too small for two women, and that two men could not hardly fit in; that it was impossible for myself or the steward to enter the cabin and to wait upon the occupants unless both of them first climbed into their berths. The purser then told me that he would have to act at once, or the company would get into trouble."

That after being transferred to this new cabin the second class physician, Dr. Simpson, called from three to four times a day; that he feared the attack of tonsillitis brought on by the chill would become diphtheretic and ordered Mrs. Shelley to remain in her cabin. (Day 18, United States Inquiry)
Other requests were more trivial in nature. Mrs. Henry B. Cassebeer remembered asking Purser McElroy if it could be arranged that she dine at the Captain's table. McElroy's witty reply, quoted in Walter Lord's book "The Night Lives On," was: 'I'll do better than that. I'll have you seated at my table.' ("The Night Lives On," Walter Lord)
12th April
As wireless messages were sent to the Marconi room via the Pursers office, it is perhaps not surprising that there was an exchange involving Purser McElroy on the 12th of April with the Purser of the Empress of Britain:
Marconigrams signal was sent to the Canadian Pacific liner "Empress of Britain", 12th April 1912 which was eastbound from Halifax to Liverpool and reads "Fishwick, Purser, Empress of Britain, Thanks, kindest regards, all going well, McElroy" the reply was a Marconigram received by R.M.S. Titanic on the 12th April 1912 at 1.43 p.m. from "Empress of Britain" reads "Purser McElroy, R.M.S. Titanic, Congratulations and good luck, Fishwick". Hugh's friendship with Purser Fishwick goes back to his early childhood days in Liverpool. ("The Life and Times of Hugh Walter McElroy", Chief Purser of R.M.S. Titanic, by Frank McElroy).
April 14th Dinner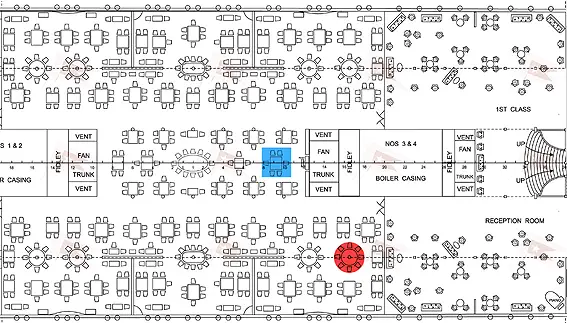 Purser McElroy was just as popular as Captain Smith - some even booking their voyages to ensure he was Chief Purser. He was also known to dine with passengers at a table set aside for him in the First Class restaurant. In Frank McElroy's book "The Life and Times of Hugh Walter McElroy" he includes a diagram indicating designated tables in the restaurant for McElroy, Smith and also Bruce Ismay, although at present it is unknown exactly what the souce of this information is (it quite possibly comes from testimony from Bruce Ismay, but this is yet to be confirmed). According Frank McElroy while the "Captain had a six/eight seated table" Chief Purser McElroy "always had an eight seated table." (The Life and Times of Hugh Walter McElroy, Chief Purser of R.M.S. Titanic, by Frank McElroy)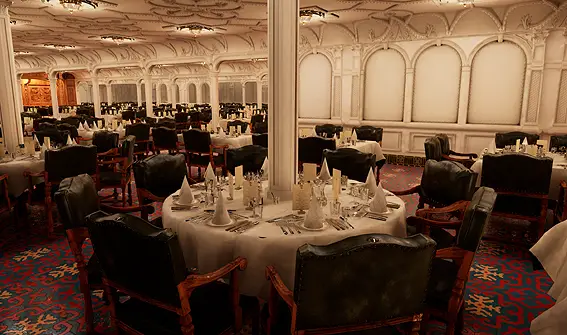 On the evening of the 14th of April the most notable dinner party was likely that of Captain Smith in the First Class restaurant. According to Frank McElroy, the "only other Officer who regularly dined with the passengers was the Chief Purser; approaching what Hugh McElroy always classed as his retirement from sea duties (he had always set his sights on becoming Passenger Manager for White Star, similar position to that of his Father-in-Law)….both had eight seated tables within the First Class Restaurant…. The Chief Steward was responsible for all seating arrangements within the 1st Class Restaurant, although Hugh had the final say on all arrangements that the Chief Steward made, although very rarely changed any decision, Hugh's dinner companions were only ever altered twice during any Atlantic crossing," (The Life and Times of Hugh Walter McElroy, Chief Purser of R.M.S. Titanic, by Frank McElroy).
Fortunately, we even have a detailed insight into the seating arrangement with McElroy and his dinner companions on that fateful night, thanks to a letter written by Mrs Eleanor Geneviève Cassebeer in 1932, with the help from the notes that she made while aboard the Carpathia:
This evening's dinner was perfect in every aspect. I had put on my most beautiful dress (the white muslin one that your father liked so much) and my pearl necklace from Geneva. I was dining at the purser's table, Mr. McRoy [sic] and, other than Mr. Anderson, my table companions were: to my left the journalist Stead and a Mr. Steward [sic], and to my right Mr. Smart, who was always smiling, as well as a small family (a mother and two children) whose name was Crompton [sic]. Mr. Stead and Mr. Steward were entertaining me with fantastic stories from ancient fairy tales, while Mr. Anderson and I were sharing memories from our respective trips throughout Europe. The Cromptons were most discreet and only very rarely joined our conversations, although I do not wish it to be understood that I found them to be of bad company. Mrs. Crompton's children were impeccably educated, and the mother herself was always of extreme courtesy. Every evening, at dinner time, Mrs. Crompton paused before me to compliment my attire, a small attention that I found particularly touching. (May 1932 letter, Mrs Eleanor Genevieve Cassebeer)
There is only one discrepancy with Mrs Cassebeer's description - she mentions a total of 9 people, while the Purser's table only accommodated eight diners. So either a different table was used on this occasion or one of Mrs Compton's children was absent as she does not mention them by name.
Although never stated, it was likely McElroy was wearing his white dinner jacket at the time - as when his body was later recovered he was found wearing a "white jacket".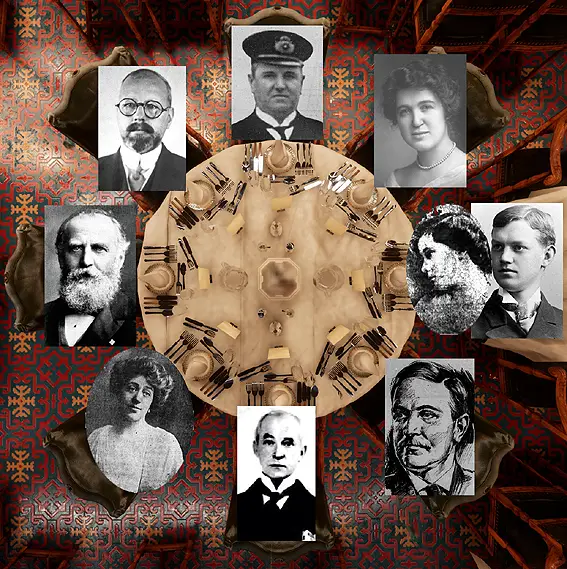 We can also get an idea of what McElroy and his dinner guests ate that night - based on a First Class menu from the 14th April 1912: