Side Menu:
First Officer Murdoch
William Murdoch: Wreck Artifacts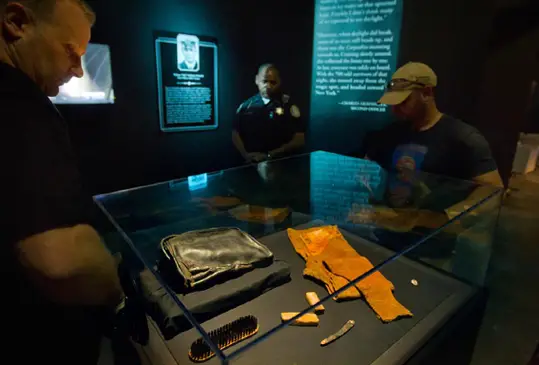 In what can only be described as a startling discovery, the Associated Press broke the exclusive news on April 4th, 2012, that the personal belongings of First Officer William Murdoch had been discovered 2½ miles beneath the North Atlantic at the site of the Titanic wreck.
The artifacts — including a shoe brush, straight razor, buttons, long-johns and pipe — are the first to be specifically linked to Murdoch and were recovered by RMS Titanic Inc.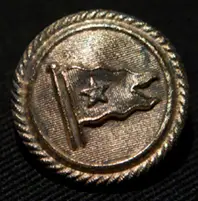 The Associated Press revealed an exclusive on the artifacts at a new exhibit that opens April 6th at Premier Exhibitions in Atlanta. According to the news articles "attempts to find Murdoch's extended family of Murdoch by contacting community members who had had contact with a now-deceased nephew of Murdoch were unsuccessful." This is unusual considering the fact that Dalbeattie researcher and family contact Richard Edkins can easily be contacted via his website.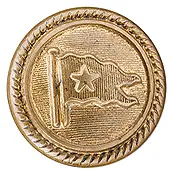 The belongings were apparantly gathered from the "debris field," an area outside the actual ship as by court order, artifacts can't be taken from inside the vessel. They were discovered back on 2000 but only recently linked to Murdoch. The primary clues are, according to Alexandra Klingelhofer, Premier's vice president of collections.:
1. The initials "W.M." embossed on the toiletry kit See enlarged image below. There is also a list of other Titanic passengers with initials "W.M." at the end of this article.
2. The White Star officers button. "Officers were given uniforms, but had to buy their own buttons, making easily-accessible spares necessary" said Klingelhofer. The button does match the one display in the Nova Scotia Maritime Museum of the Atlantic which was apparently recovered from Titanic officer's body (see image above right).
3. The razor, as early in his life Murdoch wore a beard, he began shaving it after marrying, she said.
4. And long-johns - officers and crew members often had several pairs of long-johns, necessary for frigid overnight watch shifts.
5. A pipe. According to the video news (see video clip below) Alexandra Klingelhofer mentions that "we do know that Mr Murdoch smoked". There is also a reference on Encyclopedia Titanica by Titanic historian Inger Sheil dated October 18, 2005 in which she wrote on the topic of officer's smoking: "Murdoch was also reported to have smoked" (source). Even more conclusively two photographs have been discoverd that show Murdoch holding a cigar in one and a pipe in the other (see below).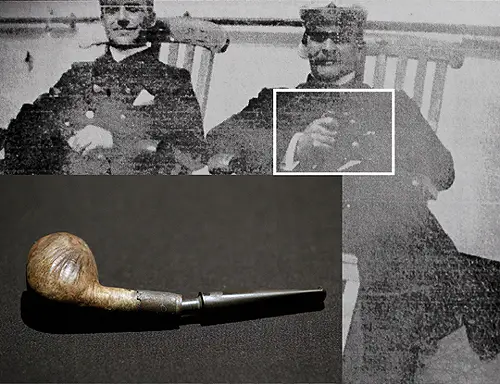 The Associated Press reporter described the items as "displayed together on a table under glass. While the long-johns and toilet kit are faded and have holes, the button sparkles, and the pipe and brush appear in good enough condition to be used today, extraordinary considering they spent 88 years in the ocean."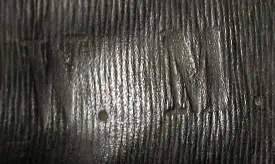 Without getting into the morality of wreck salvage etc it has to be said that it is concerning when the news articles state "the Murdoch items are part of some 5,500 artifacts that are being auctioned as one lot...the winning bid will be announced April 11" meaning that Murdoch's personal belongings may end up locked away in some faraway musuem. If they can be conclusively established to be Murdoch's they should rightfully reside in Dalbeattie. At present there is no confirmed information as to their ownership and whereabouts.
Sources:
Titanic artifacts linked to officer (3 April 2012, AP News) - Web link / PDF
Artifacts linked to officer on display (3 April 2012, Washington Post) - Web link / PDF
The following are high resolution images of the artifacts as provided by the Associated Press and Premier Exhibitions. Click on the image to see a larger version: