Side Menu:
First Officer Murdoch
William Murdoch: Memorial and Dalbeattie Apology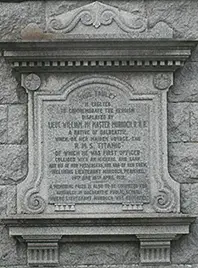 After William Murdoch's death the Dalbeattie Town Council held a meeting that decided to erect a memorial to William, even before the outcome of the Board of Trade Inquiry. Additionally, the Council set up the Murdoch Memorial Prize fund paying £4 a year to the Dalbeattie school as a prize for the best 14-year-old scholar, later the 'Junior Dux'.

The Dalbeattie memorial tablet reads:

"This tablet is erected to commemorate the heroism displayed by Lieut. William McMaster Murdoch R.N.R a native of Dalbeattie. When, on her maiden voyage, the R.M.S. Titanic of which he was first officer collided with an iceberg and sank and 815 of her passengers and 688 of her crew including Lieutenant Murdoch perished, 14th and 15th April, 1912. A memorial prize is also to be competed for annually in Dalbeattie Public School where Lieutenant Murdoch was educated."

This report was published in the Dumfries & Galloway Standard & Advertiser on August 21st, 1912, in regards to the proposed memorial:
Proposed memorial to Lieut. Murdoch
Public meeting in Dalbeattie
Last night a public meeting was held in Dalbeattie to consider the propriety of taking steps to raise a memorial to the late Lieutenant William Murdoch R. N. R., the first officer of the ill-fated Titanic. Lieutenant Murdoch who was 38 (sic) years of age belonged to a sailor family, and was the son of Captain Samuel Murdoch, Oakland, Dalbeattie. The meeting was held in the Town Hall, and there was a large attendance.
Provost McLaurin, who presided, said it was some time since the news of the disaster caused consternation throughout the whole country, and many no doubt thought that that meeting should have been called earlier. Those who, like himself, knew Mr Murdoch intimately never for a moment doubted that he did his duty faithfully and well. (Applause). But he thought it was right to wait for the full report of the inquiry before taking steps : and the official report, which had now been issued, showed that Mr Murdoch not only did his duty; but that he did well. (Applause) He called upon Mr James Little, town clerk, to move the first resolution.
Mr Little moved the following resolution: "That steps be taken to raise a memorial to the late Mr Murdoch, the first officer of the ill-fated Titanic." It was well, he said, to postpone the meeting until after the inquiry was held, because although a good many of those in Dalbeattie knew what Mr Murdoch would do in the circumstances, others to whom an appeal would be made would not know so well. They all knew that Mr Murdoch was the man on the bridge on the night of disaster, and a serious responsibility rested upon him on that occasion. From the official report that had been issued Mr Little read a number of extracts, which, he held, showed that Mr Murdoch did all that was humanly possible immediately before and after the contact with the iceberg. Lord Mersey held that the vessel was going at too great speed. But the captain was alone responsible for the speed of the vessel, and Mr Murdoch had nothing whatever to do with it. Duty perfomed as he performed it was nothing short of heroisme -(applause) - and it was only such heroism that was is keeping with the best traditions of British seamanship. (Aplause.) They had all been glad to see their townsman occupying such a high position in this profession, and it was their duty to commemorate in some tangible form what he had done. (Applause.)
The Rev. J. A. Paton, United Free Church Manse, seconded the resolution. He said he had always been struck with Mr Murdochs courteous, brave, and unassuming manner, and in commemorating his action on the night of the disaster they were honouring themselves and the community, as well as offering solace, comfort, and satisfaction to his grief-stricken relatives. (Applause.)
The motion was carried unanimously.Bailie Newall moved that they send a minute of condolence to the relatives of Mr Murdoch. He was sure that his father and mother, and wife and other relatives, deserved their sympathy on the death of Mr Murdoch under such circumstances. Mr Alex. Wilson, coal agent, seconded the motion. They knew Mr Murdoch to be, he thought, one of the finest seamen they had ever turned out of their burgh. (Applause.)
The following committee, with power to add to their number, was then appointed to make the preliminary arrangements with regard to the raising of the memorial: Provost McLaurin, Bailie Newall, Bailie Dornan, Councillors Jack, Clark, Rae, Shennan, Mundell, and McGill, Alex. Wilson, Mr James Little, town clerk; Captain Cassady, Lauriesbon; Captain Rae, Anchordale; ex-Bailie Craik, Rev. J. A. Paton, Mr J. E. Miligan, solicitor; Mr J. Tait, builder; Captain Ewart Boreland, Colvend; Rr R. Wilson, burgh surveyor; Dr John Ewart, Stourbridge; Mr J. M. Austin, registrar; and ex-Provost Davie.
The proceedings terminated with a vote of thanks to Provost McLaurin for presiding.
The Dalbeattie 'Apology'
Mr. Richard Edkins, a resident of Dalbeattie, Murdoch's hometown, began creating a website in 1998 in response to James Cameron's portrayal of Murdoch in the 1997 blockbuster film "Titanic". In it he states:
"The recent release in the United Kingdom of the Cameron production of 'Titanic' has put before the public the remarkable construction of this ship and its still more incredible final resting place. It has yet again brought the actions of her crew under public scrutiny. Unfortunately, this has also perpetuated myths about the principal officers such as Captain Smith and his First Officer William McMaster Murdoch. The film has incorrectly portrayed Murdoch as a man who committed suicide by shooting himself for being responsible for the collision. The writer trusts that this account will set forth the truth about a very worthy seaman." (Richard Edkins, Murdoch of the Titanic (1.))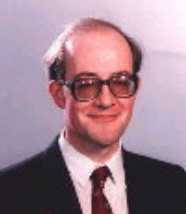 A 'catch-phrase' used throughout the website are the words of Commodore Sir Bertram Hayes, of the White Star Line, who reputedly said: "William Murdoch was our brightest star". The site contains a wealth of information regarding almost every aspect of Murdoch's history, particularly his early life, some of which has been used in this document, courtesy of Mr. Edkins. Those desiring to gain further insight into Murdoch and his hometime are urged to take a look (http://www.dalbeattie.com).
In private correspondence to me (15 April, 2003) he wrote in summary:
"I am not myself a Murdoch, but lived in Dalbeattie since 1988 and felt dismay at the portrayal of the town's most famous son. Also rage at the treatment (ignoring his letters) given to William's nephew Scott Murdoch by Cameron. However, I enjoy the music of the film, even though I deplore the incompetence of the plot. Cameron had very little understanding of the mindset of Edwardian Britain, for which he deserves censure."
Samuel Scott Murdoch
Among those calling for an apology is First Officer William Murdoch's nephew, Samuel Scott Murdoch (who passed away in August 2010). Concerned that the film will tarnish his uncle's reputation, he was quoted by the BBC News as saying: "From my own family connections and also from my father having spoken to various officers who survived -he didn't commit suicide... If someone says to you somebody in the family committed suicide when he hadn't, you take objection." (Source)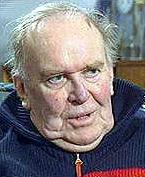 It must also be said that Mr. Edkin's 'Friends of Murdoch' web-site is part of a much larger 'information centre' entitled the "Dalbeattie Domain," promoting Dalbeattie's various features and history and containing maps and information on hotels, restaurants and wildlife. Rather than a site devoted to gaining the truth about Murdoch and analysing information from an impartial viewpoint, geographic status has unfortunately created a bias, completely ruling out even the possibility that Murdoch may have committed suicide. While a worthy endeavour with a vast, comprehensive account, Mr. Edkins displays a definite prejudice in reviewing any factors or evidence, while his overall knowledge of some details regarding Titanic is also questionable. It is thus strongly urged that in the light of insufficient evidence that readers maintain an open mind when reviewing this site, or the related newspaper articles discussing the town's Titanic connection and recent 'apologies'.
20th Century Fox Apologise?
One of the key objectives of Mr. Edkin's site was to receive some form of apology for Murdoch's portrayal and in this they have partially succeeded. Alistair Morgan, MP and lawmaker in Dalbeattie, wrote a letter to the makers of James Cameron's Titanic requesting an apology. Scott Neeson, executive vice president for 20th Century Fox, replied that "Officer Murdoch was a decent, responsible and very human hero and should remain a source of pride for Dalbeattie, and in the memories of all who know of his life," but stopped short of a 'full apology'.
On the 15th of April 1998, Mr. Neeson traveled to Dalbeattie and met with Samuel Scott Murdoch. A cheque for £5,000 was handed over as compensation for the 'distress' felt and the money used to fund new computers and a memorial board at Dalbeattie High School, the remainder administered by Stewartry Educational Trust, funding two Murdoch Memorial Trust prizes. A silver tray was presented to the school also. There were several media releases regarding this, both from print media journalists and the broadcast media, presenting it as if Twentieth Century Fox had made a full apology for their portrayal of Murdoch.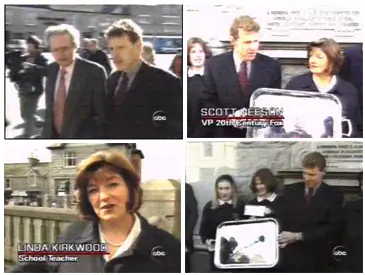 However no real 'full apology' was ever made. Mr. Neeson said publicly of Murdoch that "he really was a hero in real life" and "we apologise for any distress caused to his relatives and to the town of Dalbeattie" but no retraction of the way in which the character was depicted, except that "there is no irrefutable link" between the screen character and the historical character, to which Mr. Edkins responded: "Something as simple as 'Sorry, folks, - we got it wrong, - here's some money to help the Murdoch Memorial Prize Fund' would be far better than 'no irrefutable link'". He also writes in his website:
"In all honesty, I have to say that Mr. Neeson and his colleague were very polite, and apparently are well aware of this site. However, the film company have yet to say that they (or, rather, Cameron) were wrong to portray William McMaster Murdoch in the way that they did. The video is going to be released this September, but without any kind of apology to the relatives of William Murdoch in its credits. I can only say that I find this to be a very poor-spirited action, as an amendment to the credits would probably be less expensive than a 'Director's Cut'…
"It is fairly plain that 20th Century Fox are trying to pass off the half apology as a complete one, and this is not good news… reports coming in from various international press agencies, - as read by my correspondents, - read as if we had scored a complete victory. In fact, the victory is only one battle, and the war is not won. Linda Kirkwood was correct to remark that the 'apology' was liable to be forgotten within three or four years, for the film would go on being shown unchanged….
"Cameron and Twentieth Century Fox will only gain beneficial publicity, if they incorporate an honest and honorable apology within the first part of the film and video credits… Fox are still going to release the video in September 1998 without any kind of apology in the credits." (Richard Edkins, Murdoch of the Titanic (1.))
As far as the 'Friends of Murdoch' are concerned, "an absolute and unconditional apology is really required. Something that leaves 'maybe' hanging in the air, is really inadequate". They are unsatisfied with Neeson's "half-apology". To gain complete "victory" they are demanding that the film's credits have some form of retraction, even requesting the sending of letters to put "pressure" on the studio to issue a disclaimer that Cameron "got it wrong". Such an inclusion is highly unlikely however.
It is debatable whether the film's credits require any alteration when they already contain this disclaimer: "This motion picture is inspired by historical events. However, certain of the characters, events and dialogue portrayed in the motion picture were created for the purpose of fictitious dramatization, and any similarity to any person living today is purely coincidental and unintentional."
With talk regarding a possible "director's cut" (although later dismissed by Cameron) Mr. Edkins wrote:
"I have been informed that the addition to the film of a quarter-hour explaining the difference between the fact and the fiction about Murdoch will be delayed for THREE YEARS. By that time, about 800-900 million Chinese may have seen the incorrect version, and Fox will have made more billions out of the film… By that time, all but the better-informed watchers of the film and the video will believe Murdoch to have been a villain." (Richard Edkins, Murdoch of the Titanic)
Has Cameron apologised?
In July 2004, according to several newspaper articles, James Cameron 'apologised' for his depiction stating that he has "come to a realisation that it was probably a mistake to portray a specific person." The so-called apology took place when James Cameron was awarded an honorary doctorate from Southampton University to recognise his contribution through film to marine science and maritime archaeology. While touring the Southampton Oceanography Centre, Mr Cameron apparently admitted retrospectively that if he had made the movie again he would have changed some aspects. He then said the following: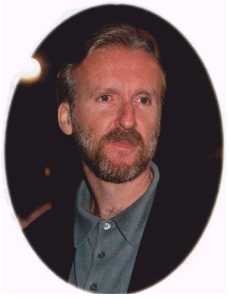 "I think I have come to the realisation that it was probably a mistake to portray a specific person... He (First Officer Murdoch) has a family - some surviving family - and they took exception to that, and I think rightly so." -James Cameron, Film Director
However, this certainly cannot be refered to as an apology as it contains such speculative and indecisive terminology such as "I think" and "probably". And most importantly we must remember that Mr. Cameron is a film director, not a historian, and his comment certainly does not change the historical fact that whether First Officer William Murdoch committed suicide or not is unknown -there is not enough evidence to prove either line of theory. So even if he feels it was a little dangerous to portray the First Officer as shooting passengers and himself in his film, based on some eyewitness testimony, it still remains a possibility that it in fact really did happen.
George Behe's "Dalbeattie Defense"
Rather ironically, Richard Edkin's Murdoch website itself has caused some controversy, especially among some ardent Titanic enthusiasts. As already pointed out, there are, unfortunately, some aspects that were found to be less than convincing and one of the first to realise this was author George Behe, who posted his response in the form of a monograph entitled First Officer Murdoch and the Dalbeattie Defense (located in Behe's Titanic Titbits web-site (11.)).
Behe states that Edkin's "website undoubtedly contains useful biographical information" but the documentation regarding "a supposed non-suicide death for Murdoch is inaccurate at best and downright false at worst" and he urges readers to "exercise a great deal of caution". As a means of "defense," Behe systematically analyses each point of "disinformation" He writes: "This task has been rendered difficult in that the information which purportedly 'documents' the non-suicide death of Titanic's First Officer is scattered far and wide across the Murdoch website. Indeed, it is this very scattering that makes the information so difficult to ferret out, since a single dubious 'fact' hidden within a string of otherwise reliable information will remain unnoticed by most people and will probably be accepted by them as being true".
Many of the points raised and analysed by Behe have already been included in this website. But it must be emphasised that Behe states that his objective was not to "prove" Murdoch's suicide but to correct "disinformation". In fact, in conclusion, he writes: "Although the present author does not know if First Officer Murdoch took his own life during the sinking of the Titanic, I can at least understand why the thought of doing so might have crossed his mind."
However, Richard Edkins, in referring to Behe's work, rather unfairly says that it 'abuses Murdoch' despite the fact that Behe explains he "does not know" and his aim has never been to prove the alleged suicide.