Third Officer Herbert Pitman
- Career at Sea
On Day 4 of the United States Inquiry into the Titanic disaster in Washington, Pitman summarised his sea career:
Senator SMITH. How long have you been engaged in marine employment?
Mr. PITMAN. About 17 years... Four years with James Nourse (Ltd.), as an apprentice; three years as all officer in the same employ; about twelve months in the Blue Anchor Line, running to Australia; six months in the Shire Line, running to Japan; and five years with the White Star.
Senator SMITH. In what capacity did you serve with the White Star?
Mr. PITMAN. Second, third, and fourth officer; second officer for two months.
Senator SMITH. On what vessels of the White Star Line have you served?
Mr. PITMAN. On the Dolphin, the Majestic, and the Oceanic.

The following is a detailed examination of the specific qualifications and ships he served on.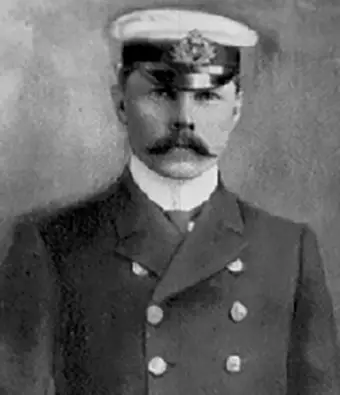 Forth and Second Mate Certification
When his four year apprenticeship with James Nourse Ltd ended on the 18th of April 1899 he was firstly employed as an officer aboard the same company's sailing ship, Forth, as third mate, from the 2nd of May 1899 until the 20th of January 1900 - a length of 8 months and 19 days. The Forth was one of the ships he had served his apprenticeship on.
On the 10th of April 1900, Pitman applied for his second mate certificate in the port of Bristol, which was the closest port to his place of residence at the time, at Sandbrook, Galhampton Bath (Yeovil). Unfortunately he failed on the subject of navigation, and reapplied on the 17th of April 1900 to fail once again on navigation. He finally passed on the 7th of May 1900, with his second mate certificate issued 7 days later on the 14th of May 1900.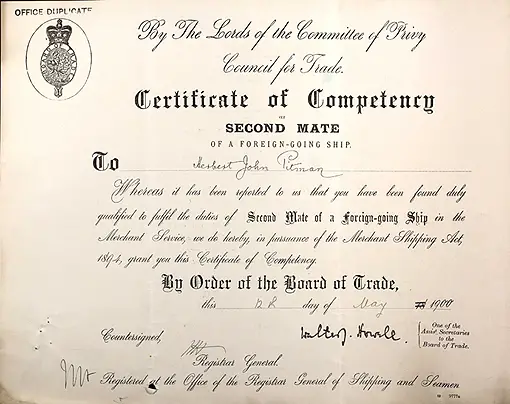 Clyde and First Mate Certification
Continuing at first as the third officer, Pitman worked aboard the James Nourse ship Clyde, for six months and 12 days from the 11th of August 1900. On the 22nd of February 1901 he was then promoted to second officer and served aboard the Clyde for another year, 1 month and 17 days until the 8th of April 1902.
Back in the port of Bristol, Pitman applied for his first mate certificate on the 9th of June 1902 and passed on first attempt, with the certificate issued on the 19th of June, 1902.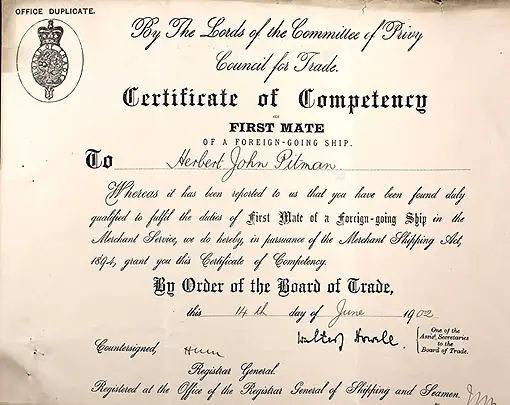 Steam Ships
After seven years with James Nourse he made the jump from sailing ships to steam and joined the Blue Anchor Line which operated between the UK and Australia. His first steam ship was the SS Warrigal, aboard which he was back to being third officer for 8 months between the 23rd of September 1902 and 6th of July 1903 sailing to Australia.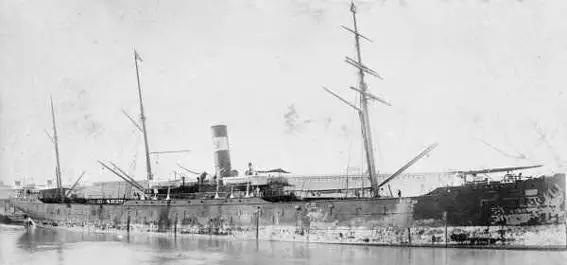 Possibly frustrated with not moving up from third officer he switched to the Shire Line, with whom he served for six months, 7th October 1903 - 19th April 1904, still as third officer, aboard the SS Denbighshire which sailed to Japan. Built in 1899 the Denbighshire was a 356 foot long single screw steamer.
SS Indus and Promotion
He subsequently returned to where he had started by rejoining the Nourse Line, this time serving aboard its new 3,393-ton steamship the SS Indus. Built by Charles Connell & Company Limited, Glasgow she had a single screw, triple expansion, 425 nhp engine and was launched on the 28th of April 1904 and delivered to the Norse Line in May 1904. Pitman served as third officer and then second officer for 7 months and 7 days from the 2nd of July 1904 until the 9th of February 1905, during which time the ship travelled to Trinidad and was primarily used for the transportation of Indian indentured labourers to the colonies.
Pitman was then promoted to first officer and worked aboard the SS Indus from the 10th of January 1905 until the 28th of August 1905 - a total of 6 months and 19 days, followed by another 9 months and 21 days as first mate from the 13th of September 1905 until the 3rd of July 1906.
Master's Certificate and White Star Line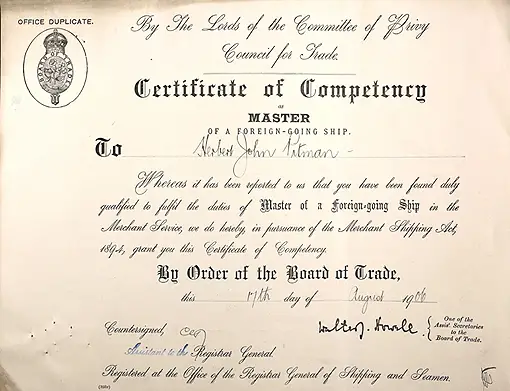 In August 1906 he returned to his home port of Bristol and on the 14th applied successfully for his Master's Certificate, with his address listed as 25 Catherine Street, Frome.
With a Master's Certificate under his belt, he joined the prestigious White Star Line in the same year, although not receiving his first posting until May the following year, to the ocean liner the SS Gothic aboard which he served for 5 months, from May 1907 until September 1907, as third officer.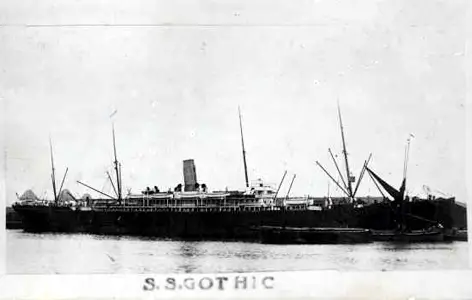 The SS Gothic was built in 1893 at the Harland and Wolff Shipyards for the White Star Line and was 490 ft long and 53 ft wide and 7755 gross registered tons. The Gothic caught fire in June 1906, the year before Pitman served aboard her and was subsequently repaired. Following Pitman's time aboard in 1907, she was converted into an immigrant ship and chartered to the Red Star Line renamed as SS Gothland.
From September 1907 until March 1911 Pitman served aboard the SS Delphic, as both third and then second officer - the highest rank he would ultimately achieve as an officer in the White Star line.
SS Delphic was also built by Harland and Wolff in Belfast and completed on 15 May 1897. She worked the New Zealand trade. In design Delphic was built as a smaller and slower version of the earlier liner Gothic which also served the New Zealand service, but more space had been given over to passenger accommodation rather than cargo, and this gave Delphic a capacity for 1,000 steerage passengers. She was built for a joint service between White Star Line and the Shaw, Savill & Albion Line.
In March 1911, Pitman moved to a slightly older but larger ship - the SS Majestic, serving aboard her in the role of Fourth officer until August 1911. At first glance it may look like a demotion to an older ship - however he was now working on the North Atlantic run from Southampton to New York run, which the Majestic had been sailing since 1907.
Captain Smith had been captain of the Majestic in 1895: at the time she was one of White Star's finest ships, weighing 9,965 tons and 582-feet in length, with two triple expansion engines powering two propellers meaning the ship was capable of 20 knots. It also had capacity for 1490 passengers. Shortly after Pitman's tenure which ended in August 1911, Charles Herbert Lightoller joined Majestic as her first - and temporarily chief - officer from December 1911 to March 1912.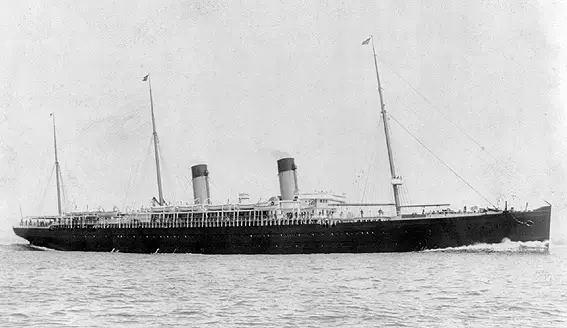 On the 4th of August 1911 Pitman joined the S.S. Oceanic, once again in the role of Fourth officer, but now on an even more prestigious ship. Launched in 1899, she was the largest ship in the world until 1901 and at 17,272 gross tonnes was 704 ft (215 m) long and 68.4 ft (20.8 m) wide, powered by triple expansion reciprocating engines equalling 28,000 horsepower. Lightoller had served aboard the Oceanic from 1907 to 1911, beginning as Second officer and then moving on to First, and spoke very highly of the ship:
"I got my severest mail boat training during the seven hard, though happy years I spent in the Queen of the Seas, as the Oceanic was then called. A wonderful ship, built in a class of her own, and by herself... She was an experiment, and a wonderfully successful one; built by Harland and Wolff, regardless of cost, elaborate to a degree, money lavished where it was necessary, but never gaudily as is so common nowadays."(47.)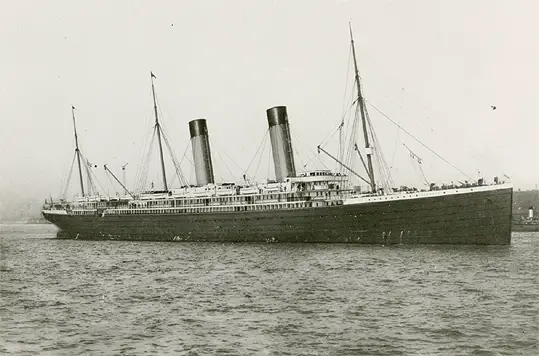 But Pitman's rise in White Star was about to take another step: in March 1912, at the age of 34, he was appointed to the maiden voyage of the world's largest ship, Titanic. And even better, he had been promoted to Third officer.