Chief Officer Wilde - Early Life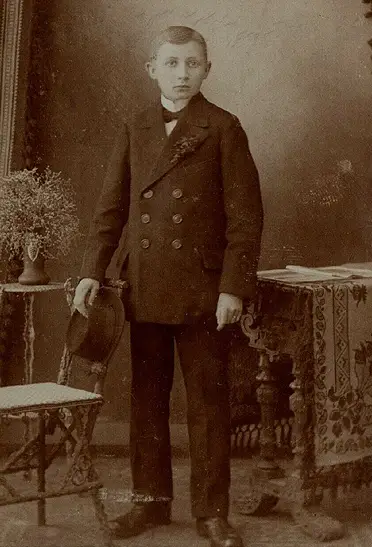 Henry Tingle Wilde, known to many as "Harry", was born on the 21st of September, 1872 in Walton on the Hill, north of Liverpool, England. He was the son of Henry Wilde, an insurance surveyor from Ecclesfield, South Yorkshire (born 1838) who had died of hepatitis on the 6th of June 1872, just three and a half months before his son was born. Harry's mother was Elizabeth Tingle of Loxley, Bradfield, Yorkshire, born circa 1835. She died when Harry was 9 years old. Henry Wilde was christened at the Loxley Congregational Chapel in Loxley, Sheffield on 24th of October, 1872.
His parents Henry Wilde and Elizabeth Tingle were married in 1860 and the couple had four children: Florence, Fredric, Ada and Henry. The firstborn, Florence, born in 1860 died when she was aged 4 in 1864. Frederick Tingle Wilde was born in 1869 in Liverpool, married Jennie Caton, circa 1895 and died in 1901. Ada Elizabeth Wilde was born 1871 in Walton on the Hill and at age 24 married Arthur Simmons Williams (age 23) in 1895.

"Although of all the Titanic's officers only Henry Tingle Wilde was to have a connection by birth with the great British city of Liverpool, there is no readily apparent seafaring link in his immediate family. Wilde, christened with his father's forename and bearing his mother's maiden name as his own middle name, was born at the family's home at Highfield Road in Walton, near Liverpool, on 21 September 1872. He would never know his father personally, as Henry Wilde senior, an insurance surveyor, died of hepatitis at the age of 34 on the 6 June 1872 - three and a half months before Henry Tingle was born. Elizabeth Wilde was left to raise their children Ada and Henry. There was a third child, Frederick Tingle, about whom little information has yet come to light." ("On Watch" - Nautical-papers.com, 2002 by Jemma Hyder and Inger Sheil.)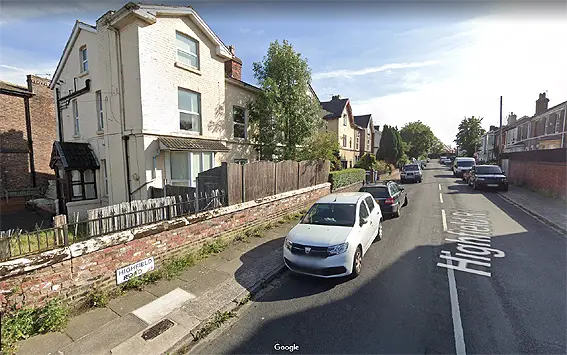 Apprenticeship
Wilde went to sea in his teens, beginning an apprenticeship with Messrs. James Chambers & Co., Liverpool on 3 October 1889, onboard the 1835-ton Greystoke Castle, which concluded four years later on 22 October 1893.  The square rigged Greystoke Castle was a sailing ship, built in 1886, with 4 masts, and 79.9 x 11.9 x 7.2 m in dimension.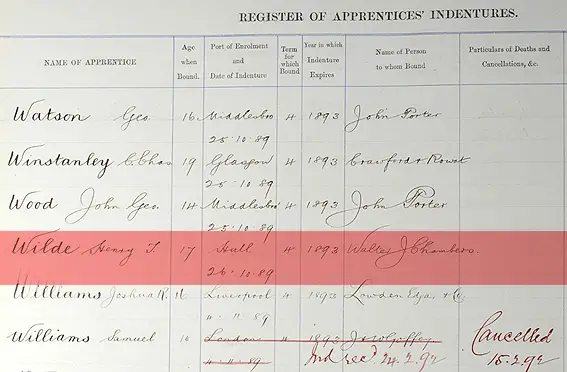 According to the The National Archives of the UK, in its Registry of Shipping and Seamen: Index of Apprentices (Class: BT 150; Piece Number: 50), Wilde's registration or indenture date was 26 Oct 1889 and he was aged 17, with port of registry listed as Hull.
Henry Wilde's seafaring career began on the 23 October 1889 when, a shade under seventeen years old, he joined Liverpool shipping firm Messrs. James Chambers & Company's 1835 ton square rigged Greystoke Castle. While most apprentices became indentured between the ages of 13-15, it was not uncommon for slightly older boys to go to sea in apprenticeships. He remained with the Greystoke Castle, trading internationally, for the duration of his apprenticeship. ("On Watch" - Nautical-papers.com, 2002 by Jemma Hyder and Inger Sheil)
Three years later the Greystoke Castle was wrecked at Cape Agulhas on the 10th June 1896.