Side Menu:
Captain E.J. Smith
Captain E.J. Smith - White Star Line
But his position as Captain was not to last for long as Smith was eyeing something even better. On January 31, 1880, he saw the White Star Line's Britannic in Liverpool and promptly arranged a tour. Five times larger than the Lizzie Fennell, the Britannic was 5004 tons and 455 feet long. It was a twin funnel steamship, with 4 masts and single screw propulsion.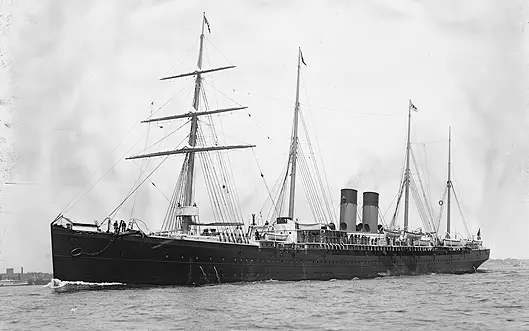 In 1876 it received the Blue Riband, both westbound and eastbound, by averaging almost 16 knots. This was clearly the future of transatlantic travel and impressed Smith enough to prompt him to drop his command and join the White Star Line a few months later in March 1880. According to Smith's White Star document "Record of Service in Company" he officially joined the company on the 1st of March 1880.
This move to another line meant that he had to drop back dramatically from Captain to Fourth Officer, in this case aboard the White Star Line's Celtic, at 3867 tons and 437 feet in length, an immigrant ship under the leadership of Captain Benjamin Gleadell. He is listed as Fourth Officer from 1 March 1880 until July 1880. Then rejoining the same ship from July 1880 until February 1882, now promoted to Third Officer.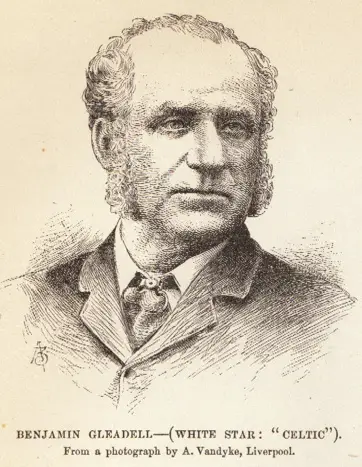 On February 6th 1882 he was promoted to Second Officer and was moved to the Coptic, a cattle-boat running to New Zealand and South America, between March 1882 and March 1884. He was then to return to the ship that inspired him to join the White Star Line in the first place - the Britannic, with 15 transatlantic voyages as Second Officer, starting in March of 1884. He became Chief Officer of the S.S. Republic on the 20th of July 1885, and aboard this ship in April, 1887 he was temporarily in command, a taste of things to come. However, shortly thereafter, on the 20th of August 1887 he returned, according to White Star records, Chief Officer aboard the Britannic.
Marriage
In the year that Smith became temporary captain of the Republic, there was also another important moment in his life, as on Thursday 13th January 1887, Smith married Sarah Eleanor Pennington (1861–1931) at the parish church, Winwick, Lancashire.
Preferring to be called Eleanor, she was 26 years old, the daughter of William Pennington, a farmer, while her Ted or Teddy as she sometimes called him was about ten years older, aged 37.
They soon moved to Liverpool and within a couple of years were living at 39 Cambridge Road in Seaforth. The house still exists today and according to a Liverpool Echo newspaper article in 2012 is still "boasting many features from the late 1800s" including "a mahogany toilet seat" in the hall that "belonged to Captain Edward John Smith."