Side Menu:
Captain E.J. Smith
Captain E.J. Smith - Personality, Reputation and Retirement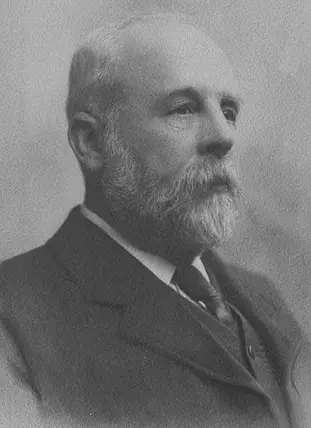 Due to the legendary status that Captain Smith has attained, it is frequently difficult to ascertain exactly who he was - his personality, character and reputation. It is only through those who knew him that we can gain some insight into the man behind the uniform.
According to The Examiner of Friday 26th April 1912, they had the following description:
"Captain Smith was an ideal sort of skipper," said one officer who had served under the commodore of the fleet for over a year whilst the latter was in charge of the Adriatic. "He was a fine looking chap," the officer continued, "standing well over six feet in height, and with the carriage and bearing of a man of only half his sixty odd years. Distinction and a somewhat patriarchal demeanour were conferred upon him by his carefully-trimmed white beard. Captain Smith by reason of his sociability was a great man amongst the passengers. He was very well read, had a great knowledge of the world, and was an excellent narrator of a fund of excellent stories."
Geoffrey Marcus described Smith in his book The Maiden Voyage as a "big man, generally regarded as the beau ideal of a Western Ocean Mail Boat Commander.  His personality radiated authority, tact, good humor, and confidence.  He had a pleasant, quiet voice and a ready smile.  A natural leader and a fine seaman, Captain Smith was popular alike with officers and men."
The Oxford Dictionary of National Biography (2004) has the following description: "A large, imposing figure, who kept a pet Irish wolfhound, and an inveterate cigar-smoker, Smith was a popular and trusted captain among the prestigious passengers who made regular Atlantic crossings on White Star liners."
As for this officers, they were generally very positive. Sixth officer James Moody wrote to his sister about Smith that "though I believe he's an awful stickler for discipline he's popular with everybody,"
Second officer Lightoller wrote about Smith in his book, Titanic and Other Ships:
Captain E.J. Smith, Commodore of the Line came over a little later on. Captain Smith, or "E.J." as he was familiarly and affectionately known, was quite a character in the shipping world. Tall, full whiskered and broad. At first sight you would think to yourself "Here's a typical Western Ocean Captain." "Bluff, hearty, and I'll bet he's got a voice like a foghorn." As a matter of fact, he had a pleasant quiet voice and invariable smile. A voice he rarely raised above a conversational tone—not to say he couldn't; in fact, I have often heard him bark an order that made a man come to himself with a bump. He was a great favourite, and a man any officer would give his ears to sail under...
Captain E.J. was one of the ablest Skippers on the Atlantic, and accusations of recklessness, carelessness, not taking due precautions, or driving his ship at too high a speed, were absolutely, and utterly unfounded; but the armchair complaint is a very common disease, and generally accepted as one of the necessary evils from which the sea-farer is condemned to suffer. (47.)
Samuel Rule, a steward who served under Smith numerous times, spoke of Captain Smith after the Titanic disaster and said: "A better man never walked a deck. His crew knew him to be a good, kind-hearted man, and we looked upon him as a sort of father." (61.)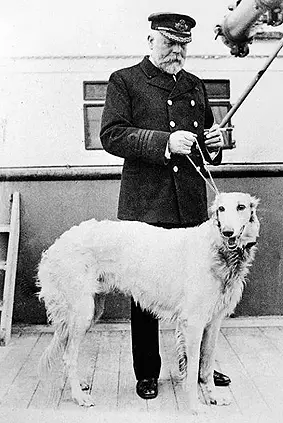 J. E. Hodder Williams of Hodder and Stoughton Publishers would also remember him fondly.  "We crossed with him on many ships and in many companies, through seas fair and foul, and to us he was and will ever be, the perfect sea captain …. He had an infinate [sic] respect – I think that is the right word – for the sea.  Absolutely fearless, he had no illusions as to man's power in the face of the infinate [sic]." (Titanic Officers and a Gentleman 61.))
Kate Douglas Wiggin, author of Rebecca of Sunnybrook Farm, had ample opportunity to get to know Captain Smith.  "The routine of life on the smaller, slower ships of earlier years made it possible to form real friendships …. This was my pleasure and privilege, season after season, for I crossed the ocean with Captain Smith twenty times or more …. Captain Smith was an admirable host: modest, dignified, appreciative; his own contributions to the conversation showing not only the quantity of his information, but the high quality of his mind …. His blunt, straightforward, seamanlike speech, his keen sense of humor, his essential kindness, his sunny smile – all these seemed to be just so many visible expressions of a character intrinsically upright and trustworthy." 61.)
Blame and Reputation
In a letter of Thursday 6th June 1912 his widow Eleanour wrote that she is "proud to bear his name. I wish you could know- read all the magnificent tributes paid to him. I never knew any one man create such esteem and love as he had the power of doing, and no son of England died a more noble death; he and Captain Gates may stand together and a way up higher than the highest… Did you ever hear of dear Ted saving the child? It is quite true and so like him. " But she also expressed concern over the Inquiries, writing: " I have had to face the all too-horrible actions on the part of the Congress working up the "Titanic" claims. They intend to make out faulty navigation. By lies only can they succeed and has been proved by the experience of the "Olympic" case, lies do succeed in the hands of the evil one."
It is very easy to point the finger of blame when that person is no longer alive to defend themselves. The early signs of this came when Senator William Alden Smith who chaired the United States Inquiry, gave his report to Congress on May 28, 1912. He clearly stated that the Captain's "indifference to danger was one of the direct and contributing causes of this unnecessary tragedy, while his own willingness to die was the expiating evidence of his fitness to live." At least Senator Smith also included some kind words, saying, "Captain Smith knew the sea and his clear eye and steady hand had often guided his ship through dangerous paths. For forty years, storms sought in vain to vex him or menace his craft. Each new advancing type of ship built by his company was handed over to him as a reward for faithful services and as evidence of confidence in his skill. Strong of limb, intent of purpose, pure in character, dauntless as a sailor could be, he walked the deck of this majestic structure as master of her keel."(25.)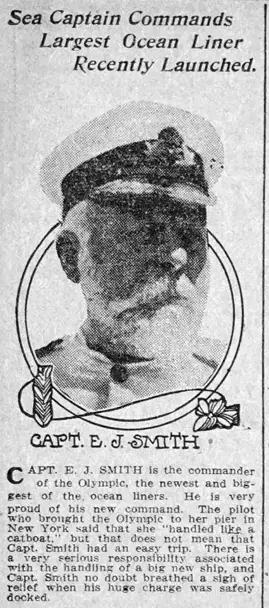 At the subsequent British Inquiry, Lord Mersey's summary made it clear that it was easy to realize, in retrospect, that Captain Smith should have changed course or at least slowed down. However, his actions conformed to the practices of the day. "In these circumstances I am not able to blame Captain Smith. He had not the experience which his own misfortunate has afforded to those whom he has left behind, and he was doing only that which other skilled men would have done in the same position."… "He [Captain Smith] made a mistake, a very grievous mistake, but one in which, in the face of practice and of past experience, negligence cannot be said to have had any part; and in the absence of negligence it is, in my opinion, impossible to fix Captain Smith with blame. It is, however, to be hoped that the last has been heard of the practice and that for the future it will be abandoned for what we now know to be more prudent and wiser measures. What was a mistake in the case of the 'Titanic' would without doubt be negligence in any similar case in the future."
However there were those who saw heroism in his actions.
Captain V. W. Hickson, who had served under Smith many years before, described him as "the nerviest and brainiest man in the service. If Captain Smith was in command of the Titanic, then there was a hero in charge when deeds of heroism were called for."
Major Arthur Godfrey Peuchen of the Royal Canadian Yacht Club said "He was doing everything in his power to get women in these boats, and to see that they were lowered properly. I thought he was doing his duty in regard to the lowering of the boats".
One of Smith's friends, identified by the press as Dr. Williams, had asked the Captain what he would do if the Adriatic struck an iceberg and was seriously damaged. Smith's reply was that "some of us would go to the bottom with the ship." Thus Williams believed Smith went down with the Titanic when the end came, as did one of Smith's boyhood friends, William Jones. "Ted Smith passed away just as he would have loved to do. To stand on the bridge of his vessel and go down with her was characteristic of all his actions when we were boys together."
But in the book "Report into the Loss of the SS Titanic: A Cenntenial Repraisal" it directly blames Smith for the low lifeboat numbers:
"It seems better results could have been obtained if there was better organisation and communication. For example Captain Smith made no special effort to inform many of his officers that Carpathia was on the way, or how long Titanic actually had left. Key officers, including Lightoller and Pitman, were never told, and the urgency of the situation was not recognised until much later on." (62.)
In a Daze?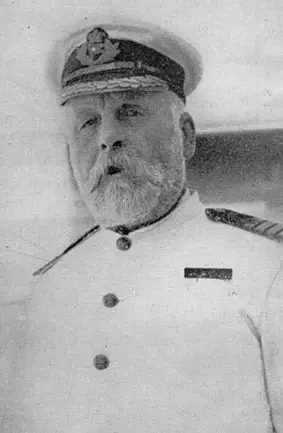 Possibly due to Second officer Lightoller mentioning in his book that he had to approach and ask Smith for permission to begin loading women and children into the lifeboats, there has been a suggestion that the captain was in a 'daze' and ineffective in the face of disaster - which has often been carried over the film portrayals. But as seen in this website - with the list of his subsequent actions on the night, he was definitely in charge and full of action during the crisis.
J Kent Layton, Bill Wormstedt and Tad Fitch are the authors of On A Sea of Glass: The Life & Loss of the RMS Titanic, wrote the following for History Extra (April 13, 2018):
"Smith, who was aged 62 at the time, was seen moving from one place to another, giving careful and thoughtful orders. Off-duty when the iceberg was struck, Smith quickly took charge, personally making two inspection trips below deck to look for damage, and preparing the wireless men for the possibility of having to call for help. He even erred on the side of caution by preparing the lifeboats for loading before he was certain that the ship was sinking. Smith was observed all around the decks, personally overseeing and helping to load the lifeboats, interacting with passengers, and striking a delicate balance between trying to instill urgency to follow evacuation orders while simultaneously attempting to dissuade panic." (History Extra, April 13, 2018)
Impending Retirement?
One of the most repeated rumours is that Captain Smith was going to retire after the maiden voyage, which adds a bitter irony to the tragedy. There has been substantial controversy over this issue. Is it true or unlikely legend? Here are some key factors to consider:
Age limit: Although Smith signed on to Titanic aged "59" he was actually 62. The third ship in the Olympic class series would take at least another two years (Britannic did not enter service until 1915 - 3 years later) by which time he would be 64 years old. In 1910 Cunard put an age limit of 60 years for captains of their new ships Mauretania and Lusitania. 54.). However, this was not a legal requirement.





1911 Newspaper report of retirement: The New York Times of June 6, 1911 reported: "Capt. E.J. Smith, R.N.R. the Commodore of the White Star Line, who is to command the new mammoth liner Olympic, will retire at the end of the present year, it is understood, as he will have reached his age limit. He will be relieved by Capt. H.J. Haddock of the Oceanic." There was never any correction or retraction of this before or after the Titanic disaster.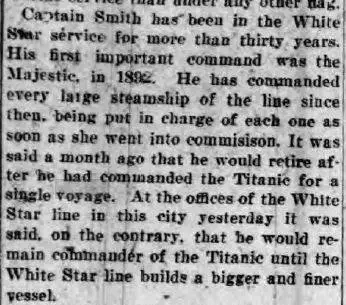 1912 newspaper report denying retirement: The last reported denial from the New York office of the White Star Line was made on April 10th 1912, when it was announced that Smith would remain in command of the Titanic until "a larger and finer vessel" was commissioned, which would have been the Britannic. The Halifax Morning Chronicle, 9th April, 1912 carried the same story, that Captain Smith would remain in command of Titanic "until the company completes a larger and finer steamer."

Publicity: Since Captain Smith's name guaranteed bookings, author Gary Cooper has suggested that the White Star Line might even have encouraged the rumours of retirement, not denying them until the last moment, in order to benefit from bookings by passengers not wanting to miss out on the famous EJ's 'last' voyage. 60.)

Historian's recent conclusion: According to the authors of the book "On A Sea of Glass" - Titanic historians Bill Wormstedt, J. Kent Layton, and Tad Fitch, retirement was likely: "So although far more ironic in hindsight, it seems Captain Smith's career was extended for a few months past the end of 1911 in order to give him the honor of taking out the Titanic. Not only would this have been a wonderful 'thank you' from a grateful company, but it would have served a dual purpose of ensuring that a skipper experienced with ships of Titanic's ilk would be at her helm during the maiden voyage."